Le Voyageur: The First Moroccan Board Game
(Casablanca, Morocco)
---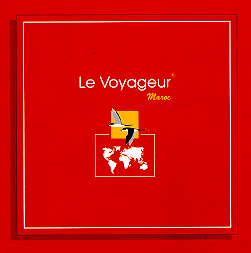 ---
My Role while at S&B CREATION
Co-Founder/Principal (1992-1995)
---
My Learning Experience while at S&B CREATION

Financial Experience
Raised $100,000 to found S&B CREATION.
Acted as Finance Manager to set the Company's Budget, the Pricing Strategy, and ensure a tight Cost Control.
---

Marketing and Sales Experience
Acted as product manager to develop several board games, and realize the Sales Forecasts.
Implemented a nationwide co-branding advertising campaign with the largest Moroccan dairy company, leading to significant sales' increases.
Trained and led a sales team of 15 people to sell several thousand games.
Designed two direct marketing advertising campaigns with leaflets; the first one targeted more than 1,500 companies and the second one was aimed at 5,000 potential end-users.
Organized an inauguration show with 1,200 people to launch the game Le Voyageur.
Designed a billposting campaign in all of the country's main airport terminals.
Negotiated the royalties' fees for the adaptation of the first Moroccan game as a daily broadcast (sponsored by Procter & Gamble) on the main Moroccan TV.
---

Operations Management Experience
Designed and implemented a distribution network of 130 retailers throughout the country.
Increased the retailers' average margins on our products by 10 points through efficient cost control.
Reduced the new product development time by half through a more efficient time and team management.
Reduced the production costs by 25% by internalizing a larger part of the production process.
---
S&B CREATION
Please Click Here for Historical Background
---

Back to Home Page
---
My Experience / My Education / My Country /
My Interests / Languages / Special Events / Favorite Sites /
Previous Page